Website Search Category Clubs Contests Exam Sessions Hamfest/Conventions Licensing Classes Member Directory News Special Events ARECC Field Class/Exam
Call Sign / Name Search
On the Air Magazine

Discover all you can do with your amateur radio license!
Magazine | Podcast | Blog | Facebook | Join/Renew
On the Air Magazine
On the Air is a suite of ARRL benefits for new ham radio licensees, anchored by the ARRL bimonthly magazine, On the Air. The magazine covers a range of ham radio interests and topics, delivering introductory techniques and stories to help anyone with a beginner-to-intermediate-level of experience. From making your first radio contact to selecting the right equipment to project building and getting involved with public service or your local clubs, On the Air magazine and its suite of companion benefits will help you make the most of your amateur radio license. Get active, get involved, get On the Air!

Members: read the latest issue of On the Air here.

Click here to see a sample issue.
On the Air Podcast
On the Air podcast is a companion to the bimonthly On the Air magazine and takes a deeper dive into select features and projects. Each month, host and On the Air Editorial Director Becky Schoenfeld, W1BXY, will offer additional resources, techniques, and hints to help you get the most from the magazine's content.
On the Air Blog
The monthly On the Air blog features curated stories from the communicators and makers who, like you, are the driving force of today's amateur radio hobby. Learn about all you can do within the amateur radio community from stories and opinions of the people, their practices and adventures. The On the Air blog is an excellent entry point into the world of amateur radio for those looking for original voices and perspectives from the community.

Whether you are new, an expert or somewhere in between we invite you to take part in the conversation, share your stories and experiences by emailing ota-blog@arrl.org.
To read the complete On the Air blog, visit www.arrl.org/on-the-air-blog.
On the Air Community
Follow us on Facebook
Follow On the Air on Facebook and join our community of people who share an interest in radio communication and are looking to learn and explore more about ham radio.
News & Features >> On the Air Magazine
QST Get it hereQEXA Forum for Communication ExperimentersLearn MoreNCJNational Contest JournalLearn More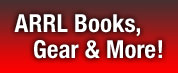 Website Search Category Clubs Contests Exam Sessions Hamfest/Conventions Licensing Classes Member Directory News Special Events ARECC Field Class/Exam
Call Sign / Name Search
ARRL, the national association for Amateur Radio
225 Main Street
Newington, CT, 06111-1400 USA
Tel:1-860-594-0200 Fax:1-860-594-0259
Toll-free:1-888-277-5289
hq@arrl.org

Contact ARRLThe ARRL is a member-society and International Secretariat of the International Amateur Radio Union.